It's great to know that Jandd bags are taking care of our customers near and far. We would love to hear your story!

---
"Nothing works better than Jandd stuff."

Dear Jandd,

The rancher in the bar said, "You might want to set awhile, might rain out there."



I was on a cross-country bicycle trip, following the Adventure Cycling Northern Tier route. It was late afternoon, in the town of Dodson, Montana, on the railroad's hi-line track next to US 2. Eastern Montana is beautiful country; rolling grass hills with not a tree in sight. I took off anyway, anxious to get to the next town before dark. Well, that'll be the last time I ignore advice like that, as the skies opened up about two miles outside of Dodson. There was wind, rain, lightning, splash back from the cars and trucks going by - the whole thing. It worked out fine though - I stopped, laid my bike down, grabbed the rain gear out of the front right pannier, and was down the road in a flash. Soon there were two complete rainbows in front of me, and all of my gear was tucked away in Jandd panniers, where it stayed safe and dry.

I like Jandd panniers - seems like I'm always collecting something or other on the road, and the panniers swallow it all up. There are well-placed pockets for my gear - flat pockets for maps, big pockets on the bottom for repair gear and flashlights, and bottle pockets in the back to stash my fuel bottles. The bungee cords on top of the panniers work great for holding my shorts as they dry, and the expandable tops of the panniers come in handy on the way to camp from the grocery store. The adjustable lock-on suspension is bombproof - it never showed a sign of loosening during my 4,500 mile trek across the country. My panniers are mounted on Jandd racks.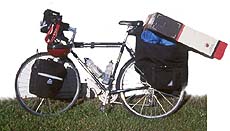 These racks are strong - I broke a rear wheel while riding the rough rocks next to the Erie Canal, but the racks never budged an inch. Check out the picture - the rack even let me carry the cumbersome Express Mail box with my replacement wheel. I also use a handlebar bag - the Touring Handlebar Pack 1. The rigid quick release bracket is great, as it holds the pack on securely. Having the frame inside the pack means that my camera doesn't get crushed by other stuff, and I can put my hand right on it when a photo opportunity appears. It's also easy to grab a snack out of the bag.

I'm a tour leader for Adventure Cycling, so I've had the chance to see a lot of panniers and bags in action. Nothing works better than Jandd stuff. It lasts forever, and looks good too! My touring experiences have taught me that Jandd equipment is well designed and durable - and when a local recommends to "set awhile," take their advice!

Thanks for building great gear!

-- Wally
---
"Jandd Hurricane pannier. - To my surprise and pleasure though, everything in there was BONE DRY."

Dear Jandd,

After much planning, I left in early May 2005 for a bike tour from the Mexican border at San Diego to the Columbia River separating Portland from Vancouver, Wash. I planned to pack light and only had back panniers, a light tent on my back rack, and minimal clothes in a backpack. I quickly discovered the backpack was not going to work. It was too hot, was digging into my back and under my arms, and was causing back pain already. Also, the weight distribution was all on the back of my bike and creating problems.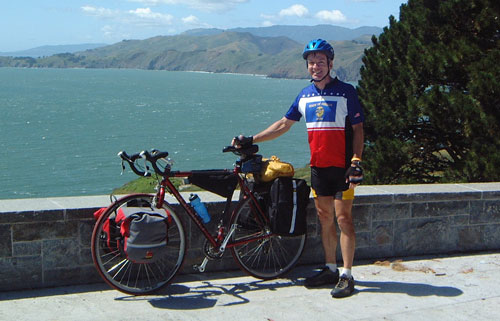 I stopped in Oceanside, 40 miles north of San Diego, at Pacific Coast Cycles. The owner, Chuck, was helpful and suggested a front rack and panniers, but only carried one kind--the Jandd Hurricane pannier. Feeling I had little choice but desperate, I reluctantly got the Hurricanes and continued on my way north to my first campground at Doheny State Beach in Dana Point.

I still was figuring out the best way to pack the Hurricanes two days later when I hit the worst rain of my life (and I'm from Oregon!), all the way from Malibu to Santa Barbara. There were several inches of water, sand and mud on the road, and without fenders the water fell several times from different directions on me and my bike. Luckily, I had a place to stay in Santa Barbara. I poured water out of my rear panniers (another brand), and feared the worse from the Jandd's, which were on the front, partly because I didn't really trust the mailbag-flap system. To my surprise and pleasure though, everything in there was BONE DRY.

I repacked the rig that night, with all the items needing to stay dry in the Jandds, other stuff in multiple ziplocks in the back. In the days to come, through torrential rain in Big Sur, hail in Morgan Hill near San Jose, and nearly constant downpours up the Oregon Coast, everything in the Jandd Hurricanes stayed wonderfully dry (unlike me).

I also became a fan of the quick clip mail flaps, especially when needing to grab a rain jacket quickly as the next squall approached. My other panniers had a zipper that always caught at the corners, making them hard to open or close. I also liked the Hurricanes easy-to-install top clips with cinch straps, as opposed to the standard spring tensioners that often become rusted and break over time.

THANK YOU!!! Between the Hurricanes, and my trusty Jandd frame pack that is big enough for an extra jersey, electrolyte gels, wallet, keys, camera, etc., my trip was a success. I reached Portland on time, May 18, after 16 days and 1,400 miles.

Attached is a photo of me on a rare day of good weather, looking out over San Francisco Bay toward the Marin Headlands from the Presidio.

Jason - San Diego

---
I have tried other packs....they don't last seven months without seams or zippers splitting let alone 7 years.
Dear Jandd,

I recently sent my eight year old "Sheleg Bookpack" to you for warranty repair. When I go out the pack rarely leaves my side... it is on the job in my capacity as excavation contractor , with me in the afternoon loaded with groceries, and on weekends you will find it strapped to the mast (with two quarts of water) aboard my Hobie Cat sailboat. Finally after seven years the zippers finally began to fail.....they would stick or split.

I fully expected you to replace the pack, many manufactured items are cheaply
made to "throwaway" when they break. Not the Jandd ...its worth repairing !

I was pleased to get my faithful old pack back, professionally repaired with two new zippers. Your attentive staff went the extra mile and even replaced a broken buckle that I had failed to mention needed attention.

I have tried other packs....they don't last seven months without seams or zippers splitting let alone 7 years. Jandd products are NOT cheap disposables, and I look forward to another 7 years of service.


Steve - Santa Barbara, California
---
I'm sold on your gear and have told everyone I know about it.
Hi,

As I was packing my Jandd pannier to ride into work this morning, I once again was marveling to myself over what a great product it was and realized you might appreciate hearing a compliment from one of your customers on the quality and design of your merchandise. I bought a "Commuter Pannier" in 1990 when I began riding my bike to work everyday. I have used that pannier every day since, whether I ride or not: I use it to carry my lunch, change of clothes, basketball or swim gear and even groceries. It's amazing what you can fit into that bag! The design is highly functional and aesthetically appealing, but that's not the best part. The best part is that it still functions as well as the day I bought it, which is a minor miracle given the abuse it's received over the years - it's been dropped numerous times, skidded across pavement and dirt surfaces while riding at high speed, been severely overpacked to where it will barely zip, and numerous other challenges to it's structure and integrity. Despite all that, the zippers still work perfectly, the stitching is all intact and, amazingly, it still looks pretty good!

All of this is a testament to the quality of your product. I'm sold on
your gear and have told everyone I know about it. Thank you for the care and effort you put into making your products - you provide excellent value for the money.

Sincerely,

Larry - San Luis Obispo

---
Jandd makes the toughest shorts out there.
Not a question, a comment. I own several pair of Jandd shorts. I recently hit the road at over 25 miles per hour as my front tire blew out on my road bike while i was making a turn. I shredded my shoulder and my (far more expensive) jersey. My shorts however were hardly damaged. So little damage that i cannot tell which shorts i was wearing in the wreck from the ones i was not. My shorts also kept my skin on my leg rather than leaving it on the road. Jandd makes the toughest shorts out there.
Ironman….
---

"I still cannot believe how much stuff I was able to squeeze into that thing!"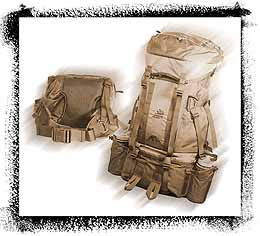 I wanted to thank you for making your packs so great!

In the summer of 2000 I went with 20 chiropractic students to the Blackfeet Indian reservation in Montana, and my Jandd bags served me very well. We took the train from Davenport, IA to East Glacier National Park in Montana, and we had to fit everything for ten days of camping and travel into one bag since our chiropractic adjusting tables accounted for our second "bag."

I used my new (at the time) Barad and it was perfect. I still cannot believe how much stuff I was able to squeeze into that thing! My carry-on essentials went into my Aretz daypack, which was perfect for the hiking we did when we weren't seeing patients. For a plane/train carry on I couldn't find a better pack. The best thing about the Barad, for me, was the detachable fanny pack feature. When we were adjusting patients at the North American Indian Days powwow festival, the dust, dirt and sand were horrific. Several times we had mini-tornados tear through our clinic tents and our patients were covered in dirt! The fanny pack was perfect for holding all of my sensitive instruments like blood pressure cuffs, stethoscope, sphygmomonometer, and chiropractic tools like an Activator instrument, DT-25 and dual probe. In total, I probably had about $3,000 worth of equipment in that fanny pack, and the best part was that I used carabiners to attach it to the tent above me, so all those instruments were free from the sand and dirt that messed up everyone else's equipment!

Thanks, Jandd!

--Steve A.
---
"...I have been meaning to write this letter for a long time, but of course never have gotten around to it. I just wanted to thank you for your products. I have taken your backpack on numerous trips to India, Nepal, Tibet, China, etc. etc. (I am writing my dissertation on Tibetan painting) where it has gotten thrown from camels, horses, yaks, buses, etc. etc. and still works, functions, and looks fine. My slim [other] backpack hasn't lasted nearly as well and is now shot. I am going to replace it with one of yours..."

--Kathryn S. New York, New York

"Friends at Jandd:

Just returning from a bike tour through South and Central America. Outfitted with all Jandd bags and could not be happier overall. Keep up the good work. Never slack on the quality..."

--Angus G. Portland, Oregon